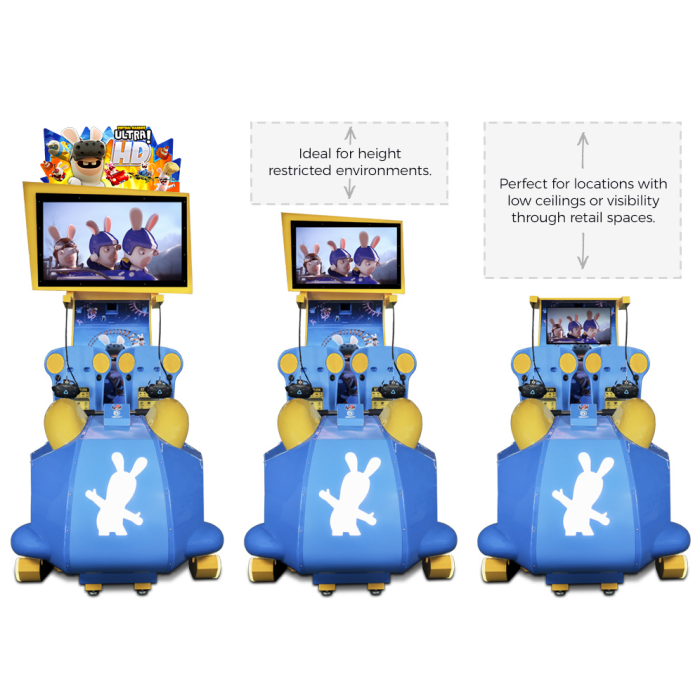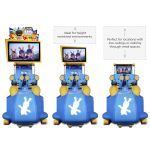 LAI Games Virtual Rabbids: The Big Ride Ultra HD
The attraction that created the category of Unattended VR remains the best VR investment available, able to be operated by any type of venue, with multiple models available including space restricted areas.  With new hardware and software components that create an even more immersive experience, Virtual Rabbids continues to be the proven highest earning and most reliable attraction in unattended VR.
Virtual Rabbids Ultra HD includes premium HTC VIVE PRO 2 headsets which boast 5K resolution and a wider field of view than any other headset.  It also features cutting-edge next-generation motion base technology by D-BOX and dynamic wind simulation for the most immersive experience available. Each seat is monetized for maximum revenue potential, and the unique audience-facing cabinet acts as a crowd-generating attract mode for the game!
VIDEO
FEATURES
SPECIFICATIONS
MORE INFO
Description
FEATURES:
5k resolution + wider field of view

Latest GeForce RTX graphics card

Next-gen D-BOX motion hardware

Extensive operator marketing kit

Updated acrylic header reflecting the new game branding
| Specifications | Standard Location Dimensions | Compact Location Dimensions |
| --- | --- | --- |
| Width | 60″ | 60″ |
| Depth | 126″ | 126″ |
| Height | 136″ | 100″ |
Every Virtual Rabbids experience is a well-crafted, premium Virtual Reality adventure. Players can choose from six unique experiences in an all-ages VR attraction that offers true 360 ̊ views with action in every direction. Riders are immersed in a unique experience every time. The Big Bundle offers the most content available for any unattended VR attraction, including the industry's first interactive unattended adventure: Space Skirmish. Virtual Rabbids keeps guests coming back over and over.
---
Alpine Adventure: Bobsled through a frozen wonderland full of twists, turns, spills and thrills!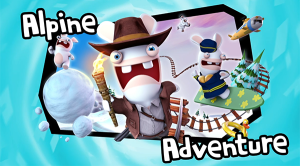 ---
Canyon Chaos: Experience the calm and the chaos of The Great Outdoors!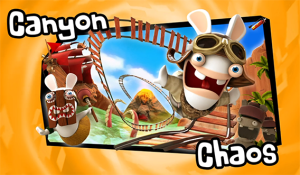 ---
Holiday Hijinks: A holiday feast for the senses that's perfect for the whole family!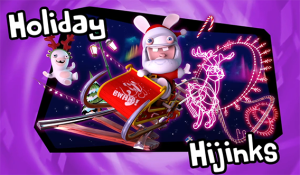 ---
Kitchen Catastrophe: Experience mammoth moments of culinary fun from a pint-sized perspective!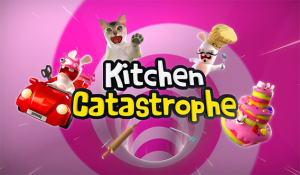 ---
Space Skirmish: Buckle up and blast your way through the enemy stronghold in this intergalactic adventure!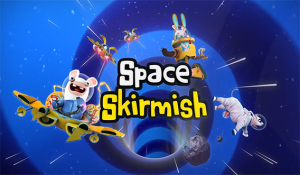 ---
Coaster Calamity: Hold on for an epic journey, full of breath-taking heights and logic-defying twists and turns!