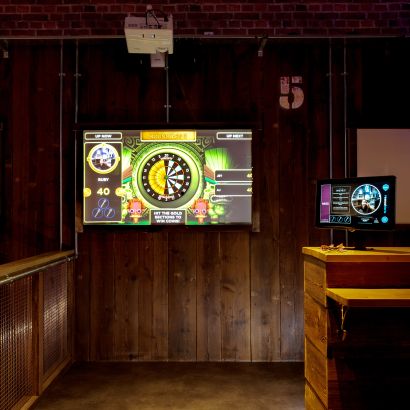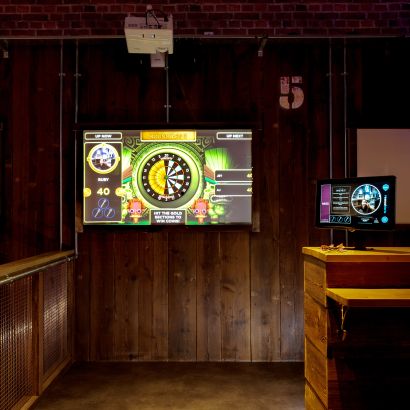 Sega Amusements Augmented Reality Darts
The SMARTS Augmented Reality system takes interactive darts to the next level. Using a plain white dartboard, the gameplay graphics are superimposed over the board and surrounding area with an ultra bright, laser projector.
Since all the graphics are projected, game play targets appear on the board itself with scores and animations occurring instantly at the point of impact. Combined with some cool sound effects, this is our most immersive experience yet.
The SMARTS Augmented Reality Darts system uses a plain white smartboard surrounded by a white high-density foam panel. All the game graphics are projected directly onto the dartboard and surrounding area. The augmented system also features sound for a truly immersive experience.
As per the interactive system, everything is controlled via the touchscreen user interface.
Players play with real, steel tip darts and real bristle dartboards from the world's leading manufacturer, Unicorn.
VIDEO
FEATURES
SPECIFICATIONS
Description
Delivers a mind-blowing augmented reality experience

The most accurate autoscoring system in the world

Real bristle dartboard from the world's leading manufacturer

Players use real steel tip darts

Touch screen player interface

Powerful player session management system
| Specifications | Location Dimensions |
| --- | --- |
| Width | 118″ |
| Depth | 118″ |
| Height | 118″ |
| Weight | 88 lbs |